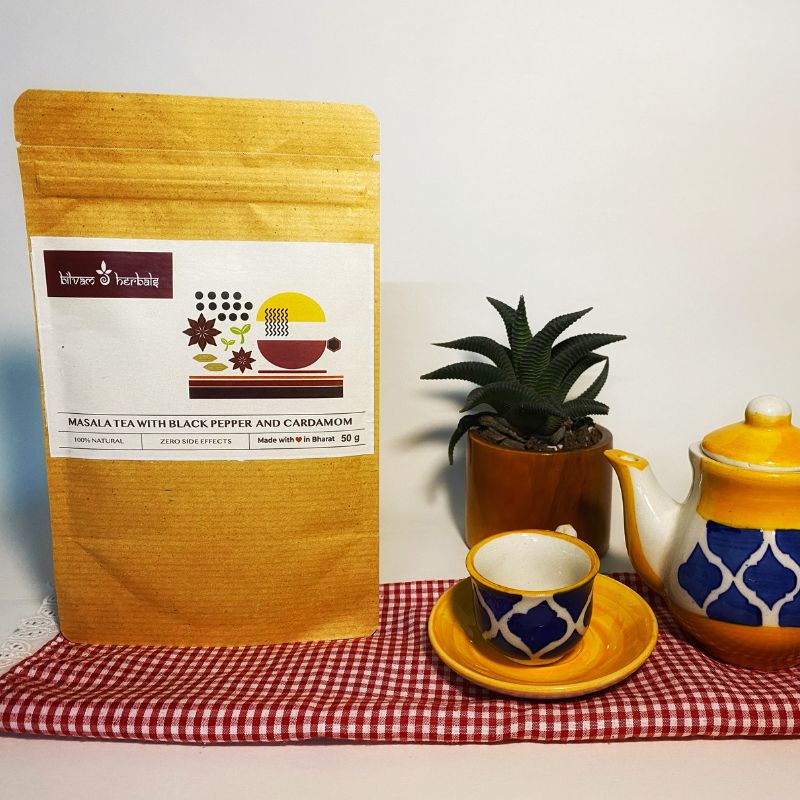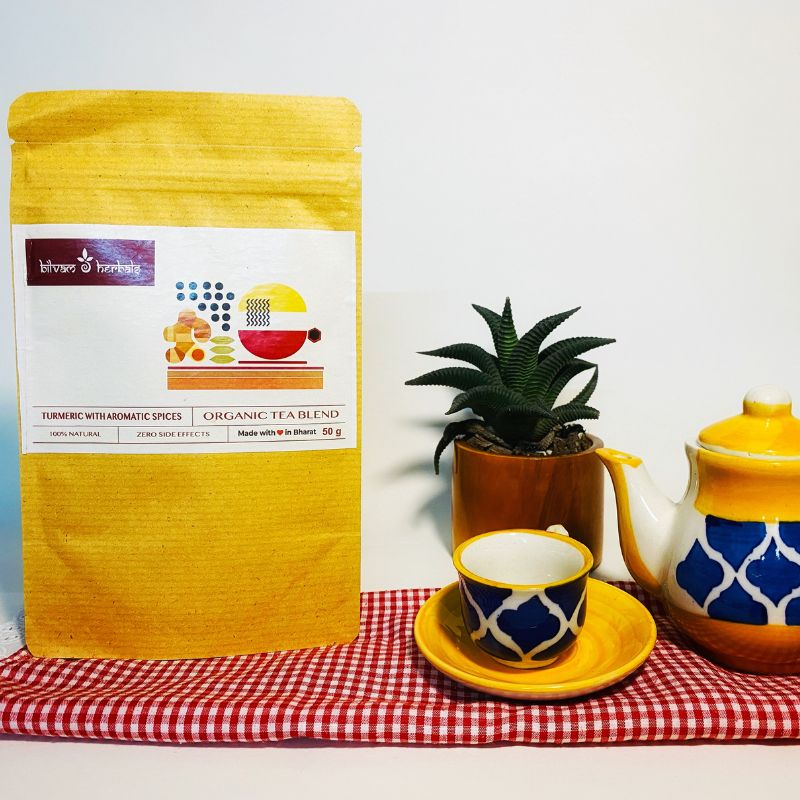 Herbal Tea Blends Combo | 4 Organic Tea Blends | 50g Each
Ingredients: Tea Powder, Black Pepper, Cardomom, Tulasi leaves, Pudina leaves, Lemongrass, Turmeric, and Spices
How-to-Use: Make it as a regular tea, with or without milk. See detailed instructions below.
Health Benefits: Relief for body pain, improved digestion, boosted immunity, and throat comfort.
Sale price
Rs. 775.00
Regular price
Rs. 875.00
Tax included.
Herbal Tea Blends Combo | 4 Organic Tea Blends | 50g Each
Sale price
Rs. 775.00
Regular price
Rs. 875.00
Introducing our Tea Blend Combo, a curated collection of five exquisite tea blends of 50g each. Each blend caters to your diverse tastes and wellness needs and is carefully crafted using premium ingredients ensuring a delightful and healthful tea experience.
Masala Tea with Black Pepper and Cardamom
Indulge in the aromatic and invigorating flavors of our Ayurvedic Masala Tea with Black Pepper and Cardamom. This blend combines handpicked tea leaves, black pepper, and cardamom, known for their healing properties. Not only does it soothe your throat and provide relief from cold and flu symptoms, but it also offers a refreshing boost to your energy levels. Savor the natural goodness and warm comfort with every sip.
Tea Blend with Tulsi Leaves
Experience the power of nature with our special Tea Blend with Tulsi Leaves. Tulsi, or Holy Basil, has been revered in Ayurveda for its immune-boosting properties. This unique blend combines handpicked Tulsi leaves and premium tea leaves to create a harmonious fusion of taste and wellness. Enjoy the goodness of Tulsi as it promotes immunity, reduces stress, improves digestion, and enhances the health of your skin.
Tea Blend with Lemongrass
Revitalize your senses and find relief from headaches and body pains with our refreshing Tea Blend with Lemongrass. This blend features carefully selected natural ingredients, including the tangy and citrusy Lemongrass sourced from pristine Kerala. Immerse yourself in its rejuvenating aroma and let it uplift your mood while offering a natural remedy for headaches and body discomfort. Treat yourself to a moment of relaxation and well-being.
Tea Blend with Pudina Leaves
Start your day on a refreshing note with our Tea Blend with Pudina Leaves. This invigorating blend helps freshen the mind and relieve exhaustion, making it an ideal pick-me-up during busy days. Additionally, it aids in digestion and provides relief from gas-related issues, ensuring a healthy and comfortable digestive system. Enjoy the crisp and revitalizing flavors of Pudina in every sip of this delightful tea blend.
Tea Blend with Turmeric and Aromatic Spices
Immerse yourself in the vibrant flavors and healthful benefits of our Tea Blend with Turmeric and Aromatic Spices. Turmeric, celebrated for its anti-inflammatory and antioxidant properties, works harmoniously with aromatic spices like cinnamon, ginger, and cardamom to boost immunity, reduce cold and cough symptoms, and promote overall well-being. Embrace the natural power of these ingredients and treat yourself to a rejuvenating cup of tea.
How to Use:
Prepare the tea blend as regular tea, with or without milk.
Store the tea blends in a glass bottle or an airtight container to maintain their freshness.
Keep them in a dry place at room temperature, away from direct sunlight.
Our tea blends are not intended for medicinal use.
Best before 3 years from the date of packing, ensuring you enjoy their freshness and flavors for an extended period.
Discover the perfect tea companion for every occasion and embrace the blissful experience of our Tea Blend Combo. Elevate your tea-drinking ritual and embark on a journey of flavor