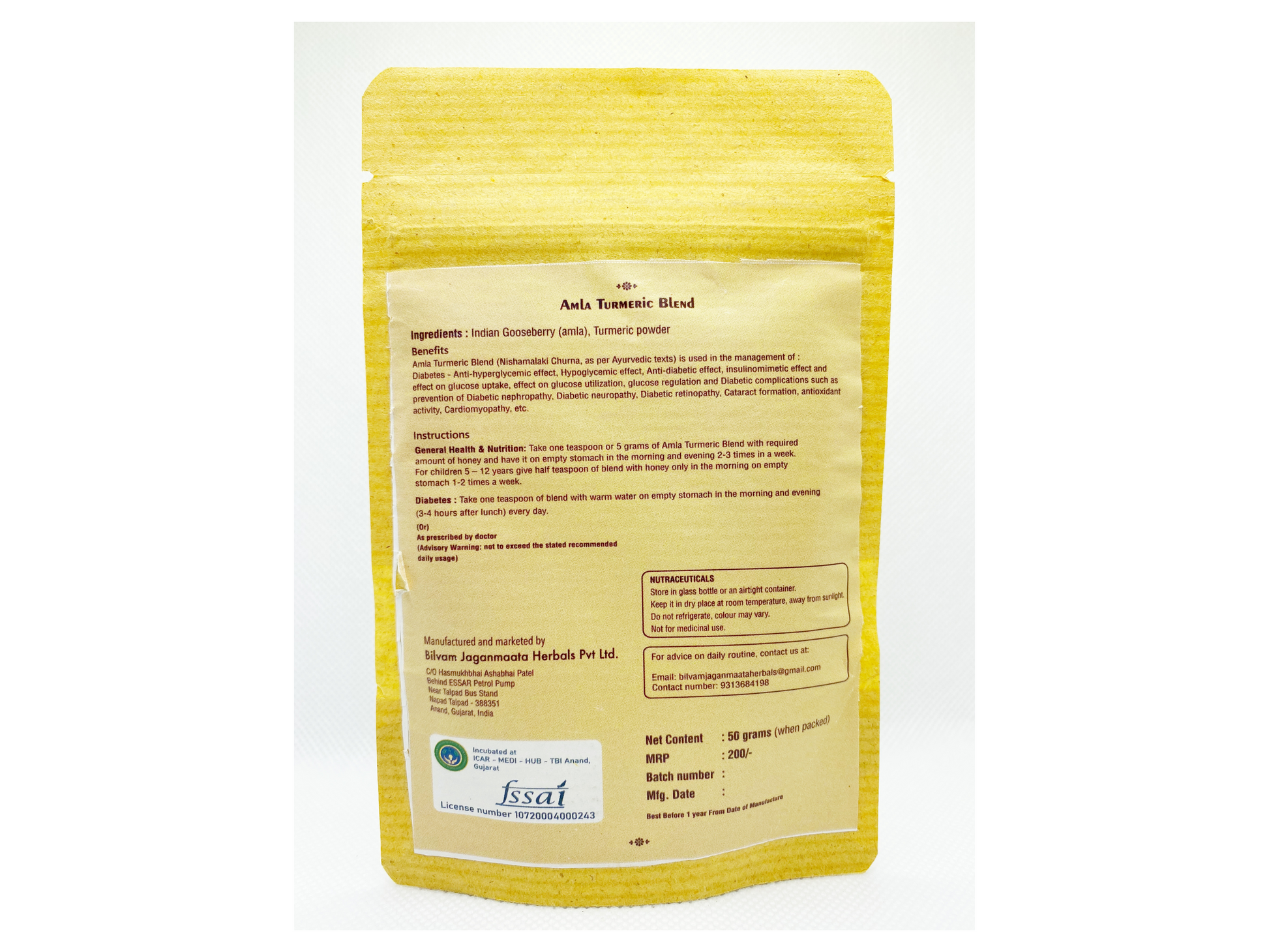 Ingredients: Amla and Turmeric powder
How-to-Use: Take it on empty stomach in the morning, or evening with warm water.
Health Benefits: Helps managing diabetes and glucose uptake.
Sale price
Rs. 200.00
Regular price
Tax included.
The Amla Turmeric Blend maximizes absorption of various vitamins, minerals consumed in the form of food or supplements. To be taken along with other supplements for better results.
Amla Turmeric Blend (Nishamalaki Churna, as per Ayurvedic texts) is used in the management of Diabetes - Anti-hyperglycemic effect, Hypoglycemic effect, Anti-diabetic effect, insulin mimetic effect and effect on glucose uptake, effect on glucose utilization, glucose regulation and Diabetic complications such as prevention of Diabetic nephropathy, Diabetic neuropathy, Diabetic retinopathy, Cataract formation, antioxidant activity, Cardiomyopathy, etc.
How to Use
For General Health & Nutrition: Take one teaspoon or 5 grams of Amla Turmeric Blend with required amount of honey and have it on empty stomach in the morning and evening 2-3 times in a week.
For children 5 – 12 years give half teaspoon of blend with honey only in the morning on empty stomach 1-2 times a week.
For Diabetic patients : Take one teaspoon of blend with warm water on empty stomach in the morning and evening (3-4 hours after lunch) every day.
(Or) As prescribed by doctor (Advisory Warning: not to exceed the stated recommended daily usage)
Medicines are so genuine
Review of my treatment and advice by Mrs. Sudha. She advised me to take simple medicine made by them and valuable inputs on kind of food intake. No other doctors identified that I had gluten problem. She instantly said after listening to my condition, that she suspects gluten in my food giving me problems. These are about the advices.
The medicines are so genuine that my blood sugar has come down from 415 to 215 in 20 days. My joint pains have drastically reduced. I have lost 8 kg weight. My cholesterol is within limits which was high too. I am not taking any other medicines except drastic change in food styles as advised. I am suffering from joint pains for 8 years with osteoporosis. My condition is improving too following the advises given by Mrs.
Sudha.