Ingredients: Kit includes - Gir Gomata Ghee (250g), Turmeric Powder (100g) and Raw and Unprocessed Honey (250g)
How-to-Use:
Health Benefits:
Regular price
Rs. 1,200.00
Sale price
Rs. 1,200.00
Regular price
Rs. 1,397.00
Tax included.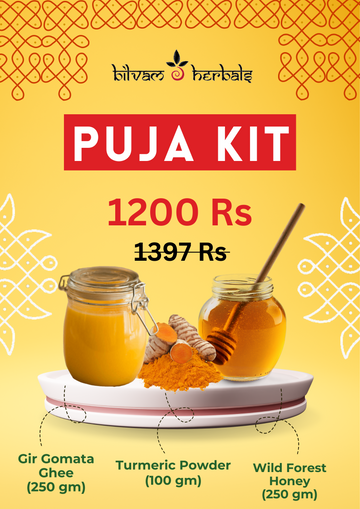 Bilvam Herbals Puja Kit
Regular price
Rs. 1,200.00
Sale price
Rs. 1,200.00
Regular price
Rs. 1,397.00
Welcome divine blessings into your home with our thoughtfully curated Puja kit which comprises the purest offerings:

1. Gir Gomata Ghee - Fill your rituals by Lighting Deepam in the abodes of Lord Ganesha, Maa Lakshmi, Lord Narayan, Adi Parashakti Jaganmaata and Mahadev in the coming auspicious months starting from Shravan will not just purify your homes but brings to you all the Ashta Aishwaryalu. Prepare sacred Mahanaivedyam using the very same Ghee to present heartfelt offerings to our revered Devathas and Devas. Let the pure essence of Bilvam Herbals' Ghee elevate your rituals to realms of spiritual mercy and abundance.

2. Turmeric Powder - Grace your ceremonies with the vibrant essence of Turmeric Powder. A symbol of auspiciousness and spiritual significance, our turmeric powder embodies the radiant energy of ancient traditions, infusing your surroundings with positivity.

3. Raw Forest Honey - Experience the untouched beauty of nature with our Raw and Unprocessed Wild Forest Honey. Collected from pristine landscapes, this honey is a testament to the untouched beauty of the wild. Its natural sweetness and purity add a delectable touch to your offerings.