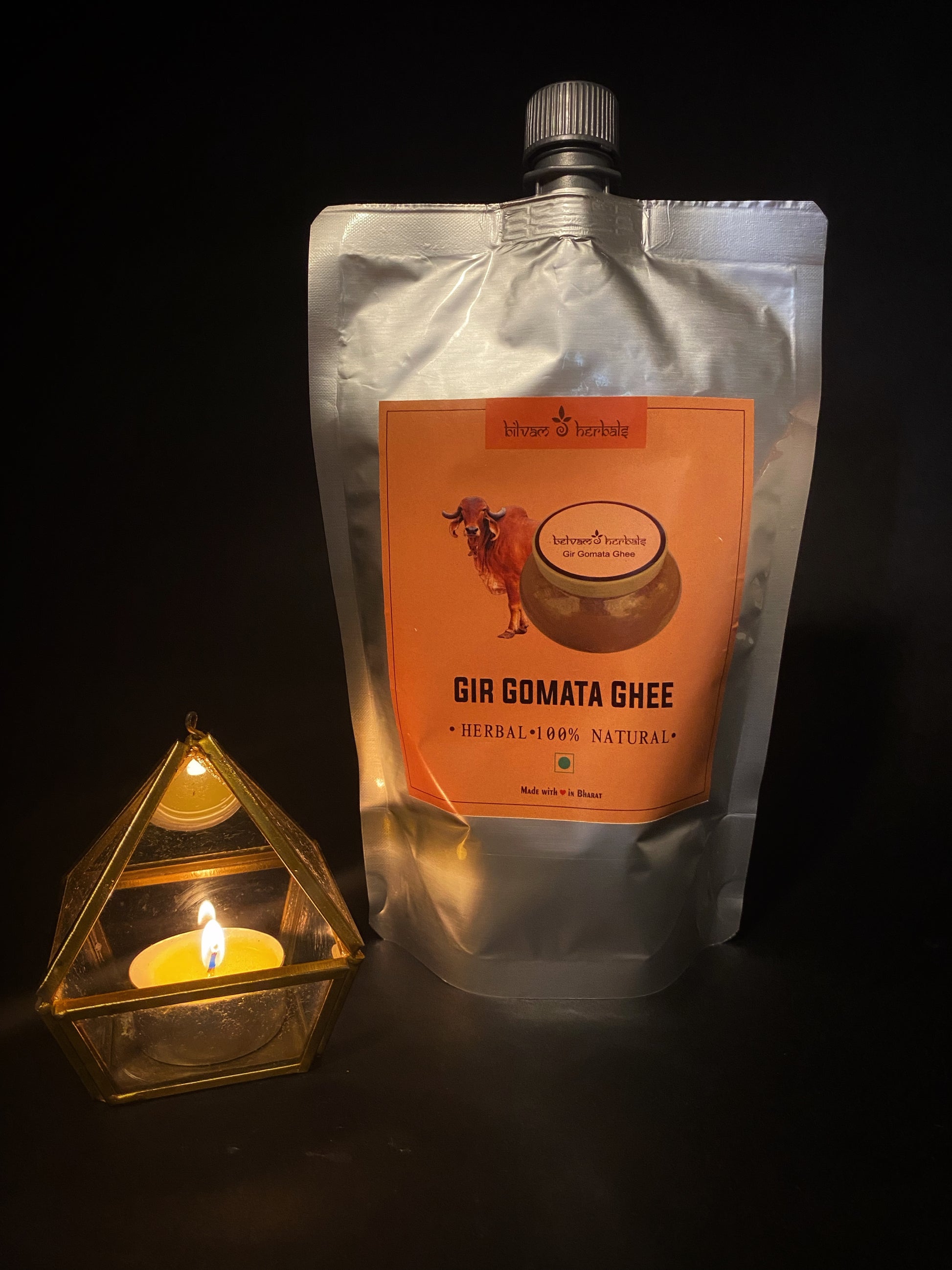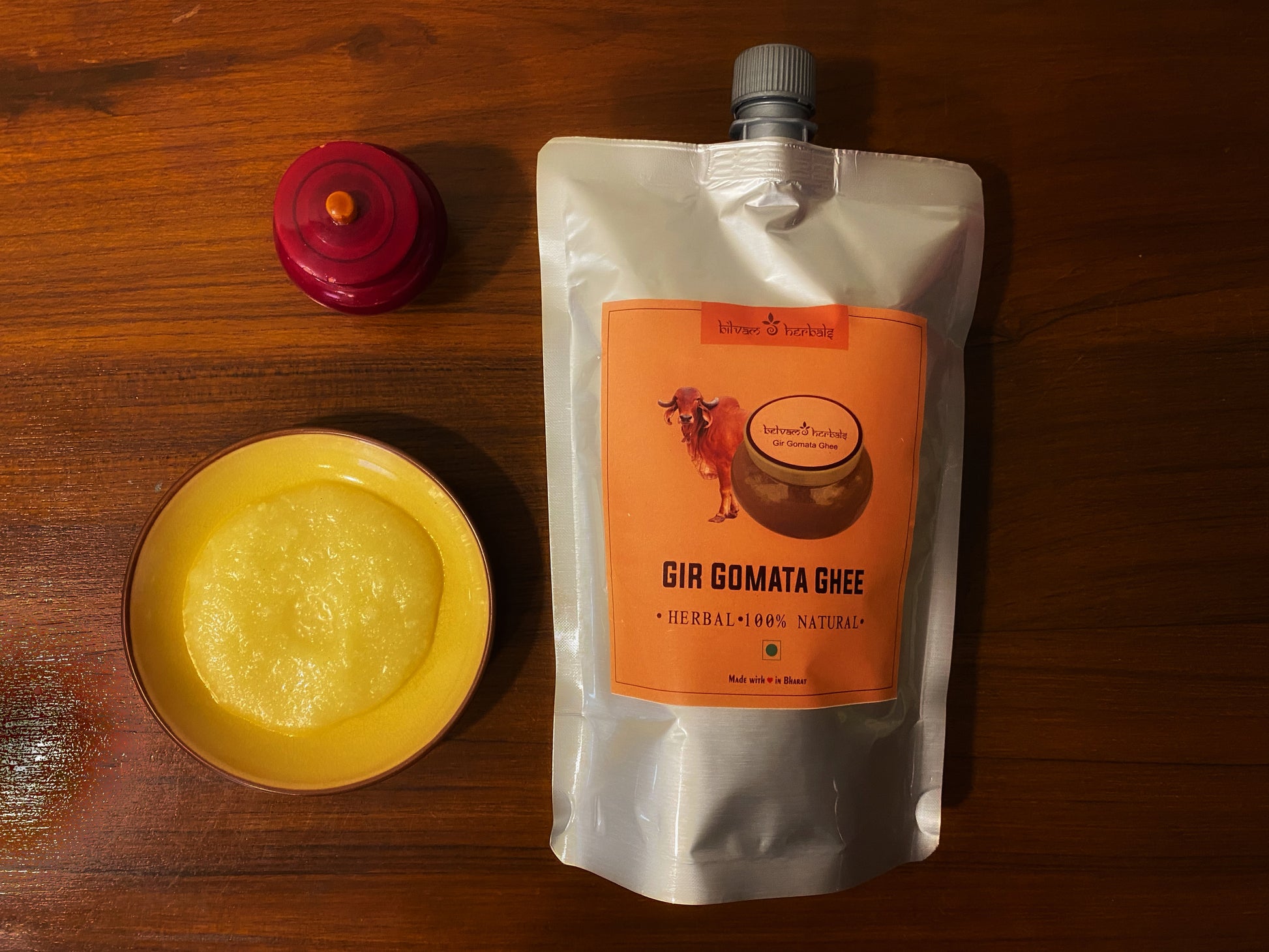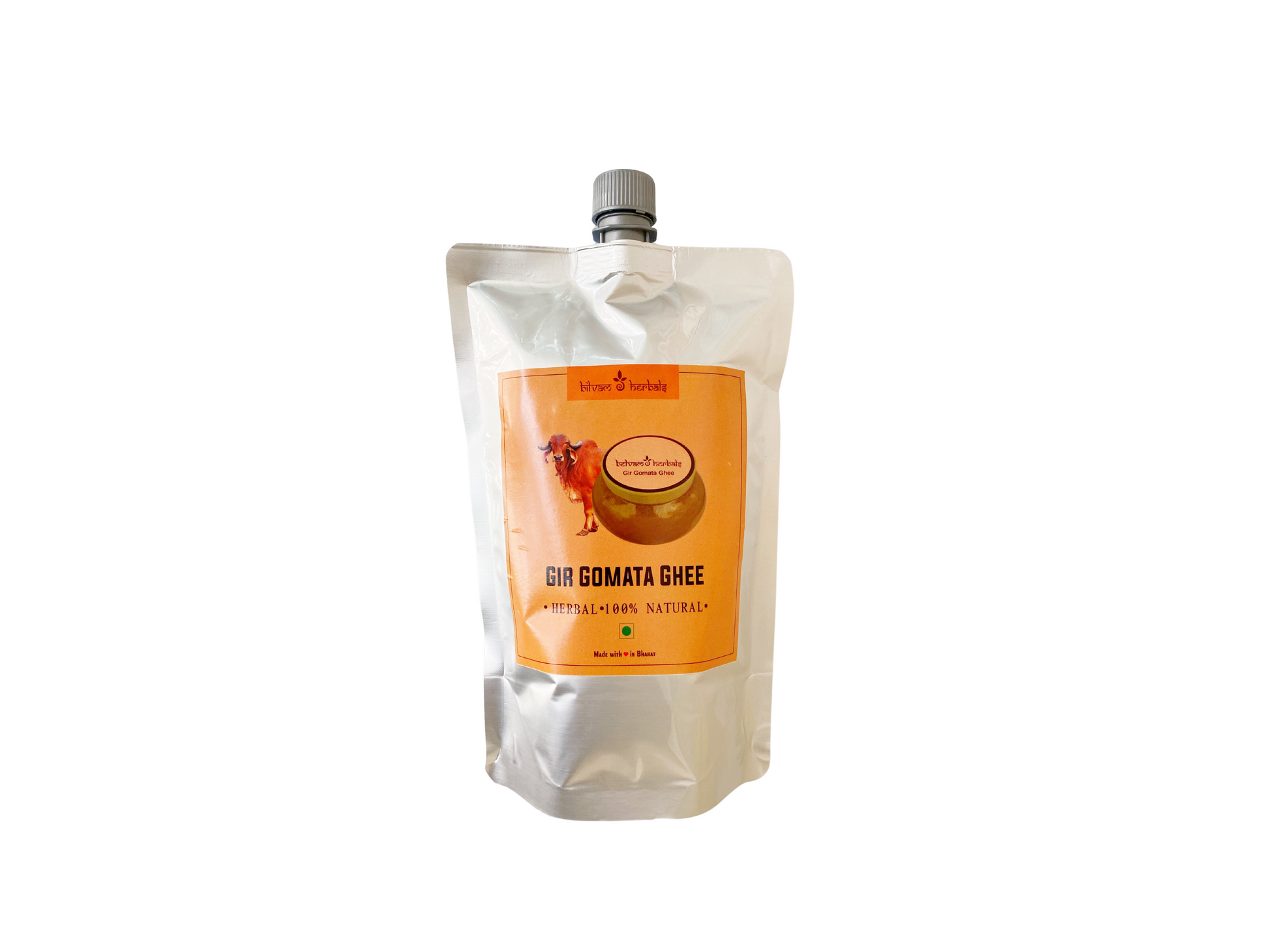 Ingredients: Gir Gomata ghee
How-to-Use: To be consumed as regular ghee. Also, can be applied to entire body and face for healthy skin.
Health Benefits: Best for joint massage, aids in weight loss, excellent on skin for Psoriasis condition.
Sale price
Rs. 949.00
Regular price
Tax included.
Introducing Gir Gomata Ghee, the purest form of ghee made from the milk of Gir Gomatas, a popular desi breed of cows from Gujarat, India. Owned by Guruji Shri. Dandapani Sastri Garu and taken care of by Shri. Ravi Bhai at a Goshala in Nadiad district, Gujarat, these cows are known for giving more milk compared to other native breeds of India.
Gir Gomata Ghee is not your ordinary ghee. It contains higher nutritional values such as vitamins A2, E, and D along with Omega 3, making it a healthier option compared to other ghee products in the market. What sets it apart is its property of liquefying at room temperature, making it ideal for cooking and direct consumption.
But that's not all - Gir Gomata Ghee offers numerous health benefits. It aids in weight loss, cures insomnia, prevents diseases like asthma and severe headaches, and is excellent for joint massage. It's also perfect for cuts, boils, acne, and any type of boils, making it a go-to remedy for many ailments.
One of the most unique features of Gir Gomata Ghee is its ability to slow down the aging process and lower bad cholesterol levels. Unlike other ghee products, it doesn't cause blockage, making it ideal for individuals suffering from heart diseases. It's also highly recommended during pregnancy and post-partum periods for its numerous health benefits.
Experience the purest form of ghee with Gir Gomata Ghee. Ideal for busy individuals living in large towns and metropolitan cities in India, concerned about their health and looking for a healthier and natural alternative. Try it today and experience the health benefits of this pure and natural product.
How to Use
1. Consume 1-2 teaspoons daily for balancing heat, building muscles, and strengthening bones and joints
2. Apply on any skin burn/tan/cuts/bruises
3. Regularly apply on the face, neck, and hands for de-tan, smooth, supple, and glowing skin
4. Apply on dry scaly dark patches on the skin for quick and good results
5. Add one teaspoon of melted ghee to hot milk and drink before sleeping in the night for sound sleep and a good voice.
GIR GOMATHA GHEE: A SUPER FOOD
Gir Gomattha Ghee is another jewel in the crown of Bilvam Jaganmatha Herbals. It's a great product and so pure. I love to use the product.
Thanks to Bilvam Team for its effort.
Srinivasulu Valmik
Rayachoty, Annamayya District, Andhra Pradesh
Excellent medicine for psoriasis works well
The medicines are very effective for my psoriasis condition thanks to Bilvam